Strings Attached with Daniel Johnston This Weekend
Strings Attached Plays with Daniel Johnston

Friday, November 20th, in Austin

Fresh off the Austin City Limits television performance with Pearl Jam, which will air this Saturday, November 21st nationwide, Will Taylor and Strings Attached will continue their musical exploration with yet, another renowned artist, Daniel Johnston.

(see time-lapse video of Pearl Jam show here)

Johnston's musical work gained some notoriety when he moved to Austin, Texas. Johnston began to attract the attention of the local press and gain a following augmented in numbers by his habit of handing out tapes to people he met. Live performances were well-attended and hotly anticipated.
His local standing led to him being featured in a 1985 episode of the MTV program The Cutting Edge featuring performers from Austin's "New Sincerity" music scene. Subsequently he performed at the 1985 Woodshock music festival in Austin, where he was featured in a short documentary of the festival, Woodshock.
Interest in Johnston increased when Kurt Cobain was frequently photographed wearing a t-shirt featuring the cover image of Johnston's Hi, How Are You album. In spite of Johnston being resident in a mental hospital at the time, a bidding war to sign him ensued. Atlantic Recordswon and released Fun, produced by Paul Leary of Butthole Surfers in 1994.
Here's a sneak peak into the ACL television show performance with Pearl Jam. Click
here. . .


Strings Attached with Pearl Jam:


We are excited to host this concert at our founding venue: St. Davids Episcopal church.
While it seats many, it still feels warm an intimate.
St. David's Episcopal Church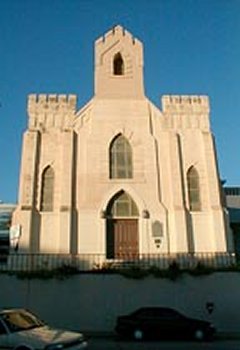 Daniel Johnston with Strings Attached:
Will Taylor and Karen Mal - mandolin, violin

Steve Zirkel -trumpet, piano, bass

Kris Afflerbaugh


Here are details for all shows this weekend:
Friday, November 20th, 8pm
301 E. 8th St.
(Enter at corner of 8th and San Jacinto)

Austin, Texas 78701
(click

here

for map)
Tickets for Friday show in Austin can be purchased

online here

.


---
COMING UP DECEMBER 19TH
Strings Attached welcomes Eliza Gilkyson
Central Presbytarian Church
Tickets coming soon to StringsAttached.org
The daughter of successful songwriter Terry Gilkyson, Eliza is a third generation musician who grew up in Los Angeles knowing that her life would revolve around music. "I got into it for all the wrong reasons, more as a survival tool than anything else, but it proved to serve me more than I dared to imagine." As a teenager, she recorded demos for her father, an accomplished songwriter whose Eliza Gilkyson livesongs have been covered by artists as diverse as Dean Martin, Johnny Cash ("Memories Are Made of This") and the White Stripes ("Look Me Over Closely"), and whose credits include such standards as "Greenfields," "Marianne" and "The Bare Necessities " (from the Disney film Jungle Book).



At the end of the sixties, she moved to New Mexico with likeminded souls, eventually raising a family, all the while developing a loyal fan base in the Southwest and Texas. After starting her own record label, Realiza Records, she put out Misfits in 1999, a collection of outtakes that received favorable press as a sound that connected the worlds of folk and modern storytelling. In 2000, Eliza released her first album on the Red House Records label, the critically acclaimed Hard Times in Babylon. In 2004 Eliza released Land of Milk and Honey, an album that was nominated for a Grammy in the category of Best Contemporary Folk Album. The CD is decidedly socio/political in nature, from the Iraq War awareness plea, "Hiway 9," to the call for peace in Woody Guthrie's previously unrecorded and timely peace anthem, "Peace Call," a track featuring vocals by friends and fellow artists Patty Griffin, Mary Chapin Carpenter and Iris DeMent.