Will Taylor
and singer songwriter mandolinist
Karen Mal
team up for a couple of rare duo shows. In addition to playing music from Karen's recent CD The Space Between, folks will see Karen stretch out vocally on a few jazz standards, a Joni Mitchell cover and a classic rock song or two.
Karen Mal sings. From raw sensuality to shimmering bell-like clarity, her voice is both tender and powerful, and as effortless as a waterfall. There's a river that flows between Karen and her audience. It's about love. The possibility and the unbearable beauty of it. Elusive and abundant at the same time.
Based in Austin, TX, Karen has created a name for herself as a captivating singer, instrumentalist and songwriter. Ranging from charming to seductive, impressionistic to philosophical, her songs have brought her nationwide acclaim. Shes won top awards from the Wildflower Arts and Music Festival in Texas, the Tucson Folk Festival and the Portland Songwriters Association and has also been a three time New Folk Finalist at Kerrville, emerging artist at Falcon Ridge and a finalist at the Sisters Folk Festival.
For the past seven years
Will Taylor and Strings Attached
have presented collaborations concerts with singers like Eliza Gilkyson, Slaid Cleaves, Shawn Col and Jimmy La Fave.
Imagine what might happen, suggests Taylor, if we took Austin's most popular singer-songwriters -- Abra Moore, or Jimmy LaFave, or Patrice Pike, or Ray Wylie Hubbard -- and let them perform, live, in a church? Then imagine if you paired those artists with acoustic "chamber" instruments -- cello, violin, viola, trumpet and hand drums -- and wrote new arrangements, adding dashes of jazz and classical music, that revealed new facets of their most beautiful or familiar songs?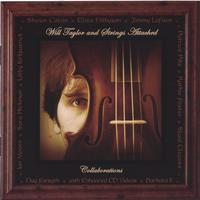 Collaborations 2005
Imagine what might happen if you dared to blur all these boundaries between pop music and jazz, between rock music and classical music, between the musical realm and the lyrical realm, between the honky-tonk and the church, and in the spirit of art and fun and experimentation, you reached out for something . . . transcendent?